JB JURVE is pleased to announce APOGEE - a compilation of solitude, ecology and recreation, featuring a series of readings and musical iinterventions, a presentation of the book of the same title and an exhibition of participating artists in conjunction with nüans. APOGEE is the second publication by the artist group nüans, which will be released by Revolver Publishers in 2011.
APOGEE is the place in the universe, which is most distant to earth. A mathematical quantity and allegory for the absolute seclusion. APOGEE is the retreat to privacy, confidentiality and relaxation and can blossom in foreign environments. nüans has invited 80 artists and theorists to contribute
to various topics related to the theme of islands/isolation.
The show in Los Angeles is the last step in a series of APOGEE
previews and features various aspects of isolation and laziness in
an urban context.
nüans is an artists collective organized by Anna Heidenhain, Elmar Hermann and Maki Umehara in Istanbul, Turkey and Düsseldorf, Germany. nüans finds specific locations that fit the context of each event. The projects are designed to work in an interdisciplinary way in order to bring about an exchange of ideas between a wide array of collaboratos.
www.issuu.com/nuansnewpaper/docs/22_comfort_isolates
Utilizing minimal editing techniques, repetition, and corporal action
to engage the observer, Aaron GM (LA) uses his body, voice, minimal
studio props, and a single lens to create a whimsical and compelling
oeuvre.
Ana Barrado photographed the rockets in Cape Canaveral in 1988 and
created futuristic images that have appeared in J.G. Ballard's story
collection "The Atrocity Exhibition" published by RE/Search. Her
visions of skyward-pointing missiles perfectly complement Ballard's
apocalyptic landscape as well as claustrophobic scenarios of
isolation in general.
The American Felling Axe that Elmar Hermann uses in his installation
at JB Jurve is an icon of American wildlife romanticism. A perfect
example for taking cultural evolution radically serious. Every
feature of this axe was meticulously designed for uselesness which
turns a woodland tool into a general symbol for snobby weariness.
Gökce Suvari is a Turkish artist who lives and works in Istanbul, at
the gallery Gökce is going to realize some impossible maze wall
drawings which combine modernist architecture and dead-end
possibilities of finding your way in this pre-organised systems.
Somewhat a humorous approach to isolated and close circuit living /
working structures.
A famous yoga teacher once said: "If you don't have anymore, maybe
you don't need it anymore." - a sentence that inspired Berlin based
artist Klara Adam to use it as a title for a very fragile modell of a
shipwrecked villa.
Maki Umehara: "I've decided to live and travel in foreign countries
during my life, to be dislocated and represent myself as a performer
and as a moving object, which would bring a new meaning and
communication to the cummunties in which I live." An installation
"Homes in Mum-Bay" is going to be presented at JB Jurve as
decoration of villa in India, where private and public spaces seemed
to be often placed together.
Matt Sheridan's "Curse of The Paper Tigers" is a multi-channel
animation video installation projected across a Chinatown rooftop
wall which questions dissonance between Chinese and American cultures
with animated signs and actions of travel, economics, conflict and
redaction.
Film producer Michael H Shamberg´s Turtle Salon reconnects with an
international coterie of artists, writers, filmmakers, actors,
musicians, dancers and architects - at the gallery we present "Mito
Songs"- a collection of photos he's been collecting for some years.
For the closing reception of the show he is going to prepare a
special screening of his work and colaborators that are part of the
turtle universe. www.turtlesalon.com
WJM Kok is a Dutch artist who lives and works in Amsterdam. "Untitled
(As Long As The Grass Grows)" is out of a series video pieces in
which difference is provoked by using visualisations from a standard
computer software music player, to generate a non-repetition of sorts
in which everything is continuously on the move. The video also seems
to act as a screensaver, which appears when a computer falls to sleep
mode due to a lack of interaction.
Joe Baiza is a punk rock and jazz guitarist who lives in Los Angeles.
Baiza is a founding member of the bands Saccharine Trust, Universal
Congress Of, and The Mecolodiacs. He also performed guest guitar
spots on several Minutemen tracks and played alongside "Black Flag's
Greg Ginn" and "Chuck Dukowski". At JB Jurve Baiza is going to perform a solo set during the opening night.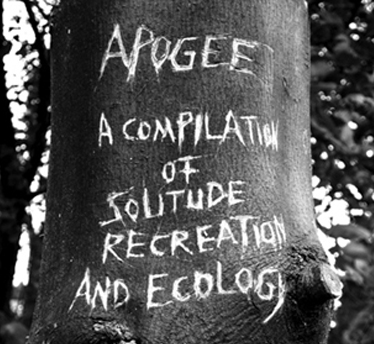 Apogee - a compilation of solitude, ecology and recreation
Aaron GM, Klara Adam, Joe Baiza, Ana Barrado,
WJM Kok, nüans (Elmar Hermann,
Anna Heidenhain, Maki Umehara)
Michael H. Shamberg & Turtle Salon,
Matt Sheridan, Gökce Suvari
August 6, 2011 - September 20, 2011
Opening Reception Saturday August 6, 7-10pm
Press Release